Tesla Meter/Gauss Meter TM-4702
Tesla Meter TM-4702 can measure magnetic flux density (DC) such as magnets and magnetic flux density (AC) such as transformer at high accuracy in the range of 0.01mT to 4.0 T.
Auto zero function (automatic calibration) RS - 232C is included as standard equipment.
This Tesla Meter also includes various practical functions such as a comparator function and a peak hold function.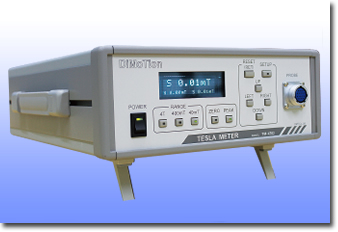 Features
Peak hold function
Comparator function
Auto zero function
Minimum resolution 0.01mT (0.1G)
Accuracy ± 0.4%/Measurement range full scale
High accuracy/Low noise (Dynamic range 90 dB)
Frequency characteristic DC-5KHz
Equipped as standard with RS-232C (USB compatible)
Probe

Flat type FC-150 (1.5mm width × 1.2mm thickness)
・FC-1506 (width 1.5mm × thickness 0.6mm)
・FC-300 (width 3.0mm × thickness 1.8mm)
・FC-075 (Ultra-fine width 0.6 mm × thickness 0.28 mm world's smallest size)
・FC-075L FC-075L (Front end of FC-075/50mm long type)
Shaft type
・AC-156 (φ6 type)


・AC-153 (φ3 type)
DFM-101S
In the flux meter, DFM-101S, we decreased the drifts to extremes by using a highyl accurate integrating circuit. It can measure from 1 μWb to 1,000 mWb. This is a practical and multiple function flux meter with a built-in comparator and peak holding function.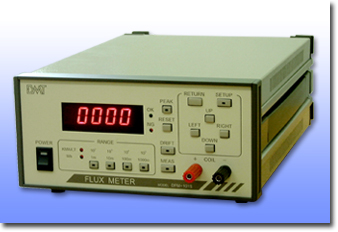 Features

The measurement ranges are; 1mWb・10mWb・100mWb・1000mWb
The units (Wb or MAX.Turns) can be switched.
The minimum resolution is 1 μWb
Various peak holding functions (P・P、ABS、N、S)
Buit-in comparator
Super stable drift
Automatic Zero function
External control is possible
RS-232C is equipped (It can correspond to USB)
Impulse meter (magnetizing ammeter) IPM-501 Discontinued
Many existing magnetizing ammeters measure only the peak value when measuring the magnetizing current. But the IPM-501 can measure the peak value, the area size, and weld time in every 4 μseconds.
Q: Does the magnetic characteristic change according to the magnetizing power supply?
Does the life of the magnetizing yoke become shorter?
A: Yes, it does. It is because the ripple of the magnetizing current by the magnetizing power supply is different.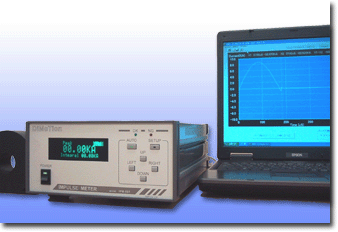 Features

This can measure the peak value of the magnetizing power supply and the area of the magnetizing current.

(patented)

The sampling speed is 4μseconds.
Ultra high-accuracy
This is equipped with a USB port and serial port.
Built-in comparator
Various analysis with the exclusive software
This can check and measure the dispersion of the magnetizing power supply and multiple outputs.
*The specification and the exterior might be changed without notice.