An analysis of the magnetizing ripple is needed every day. Everything will start from here.
Since miniaturization and high accuracy is the most important theme in the motor industry, a progression in the field of magnetizing ripple analysis is demanded.
Taking advantage of our spindle motor design experiences, we develop and manufacture many magnet analyzers with high accuracy, functionality, and operability.
We also produce a magnet analyzer which fulfills each customer's needs.
MAD-310RAS
Anytime/Anyone the same value 
Commitment

to reproducibility

The MAD-310 RAS has a memory function of X, Y, Z axis coordinates, which pursues reproducibility so that anyone can obtain the same measured value at any time. Our proprietary ultrafine probe FC-075 which is effective for proximity measurement of magnetic flux (width 0.6 mm × thickness 0.28 mm) can also be used.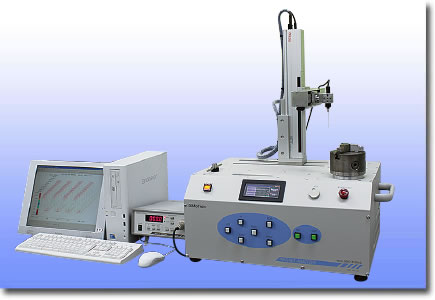 Magnet analyzer/measuring waveform image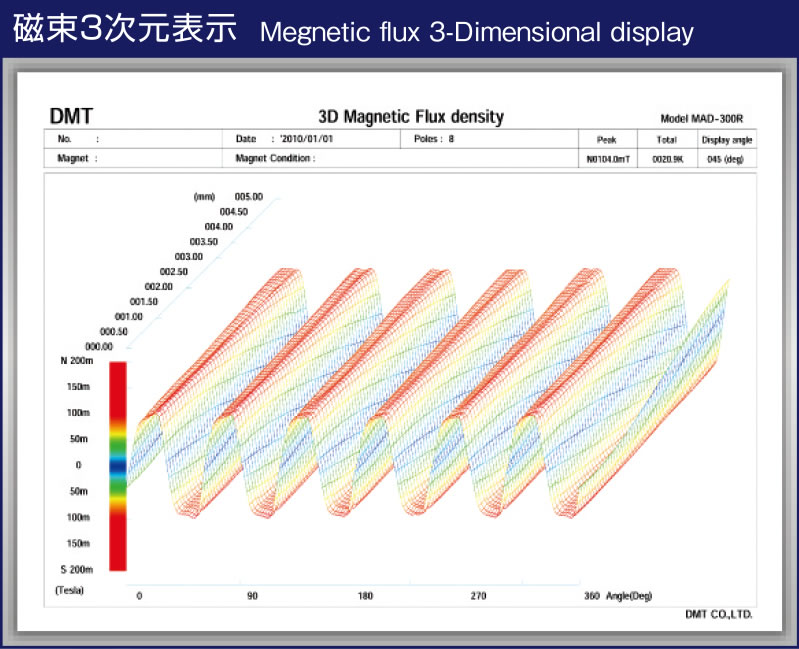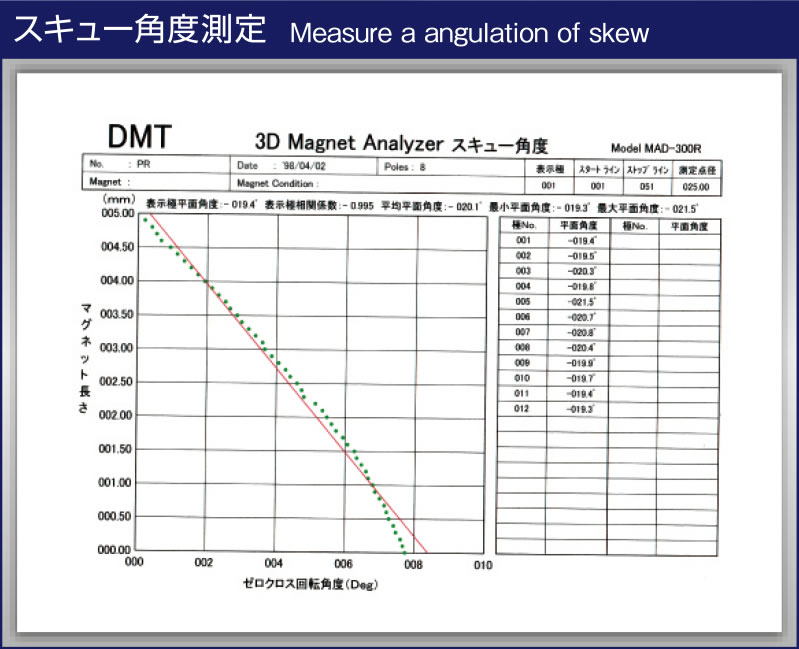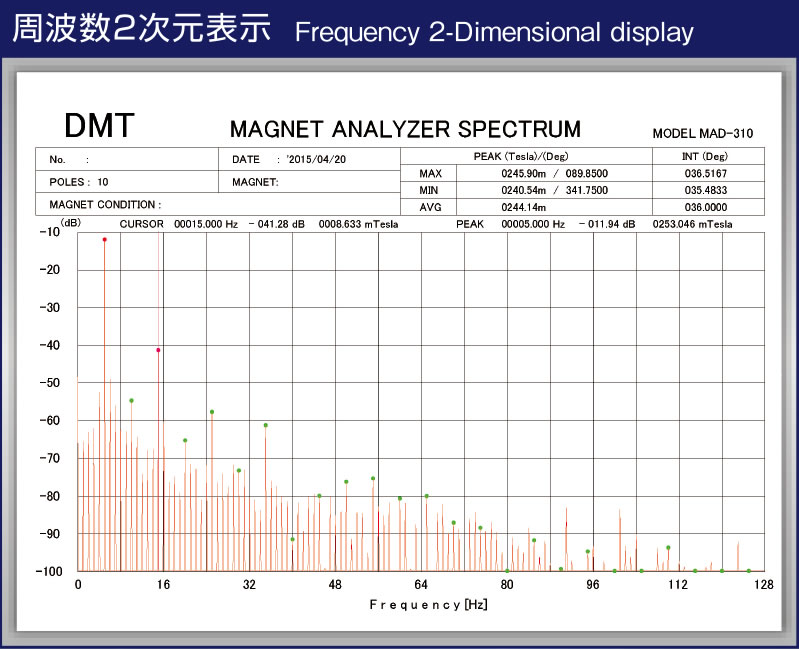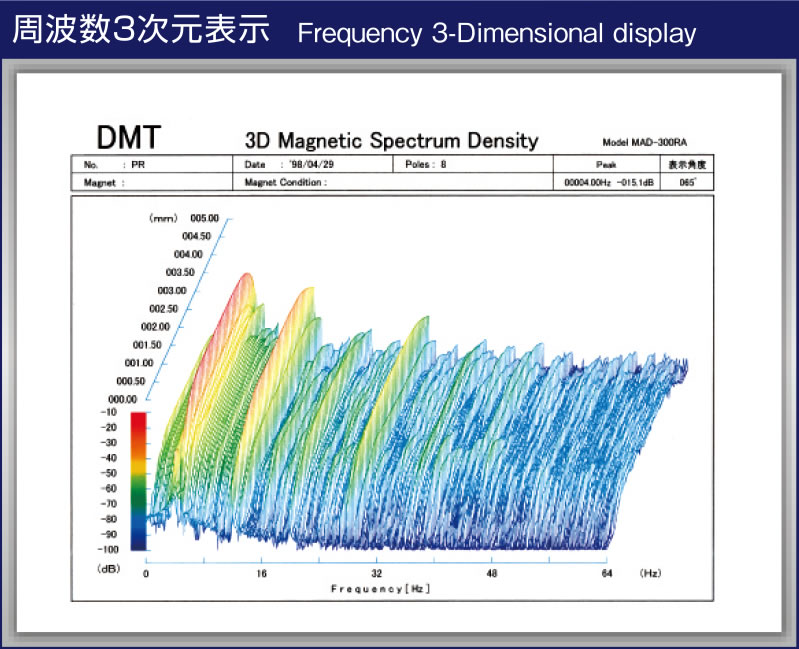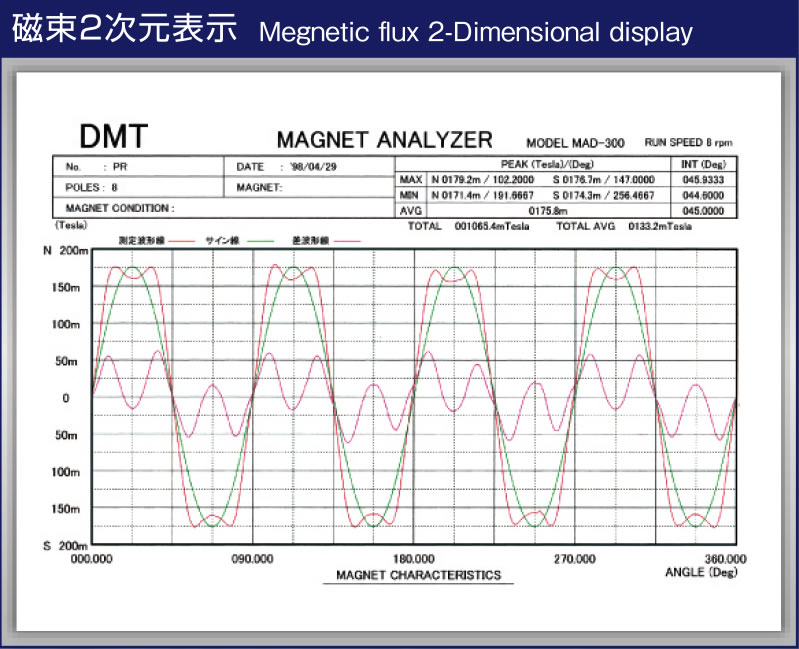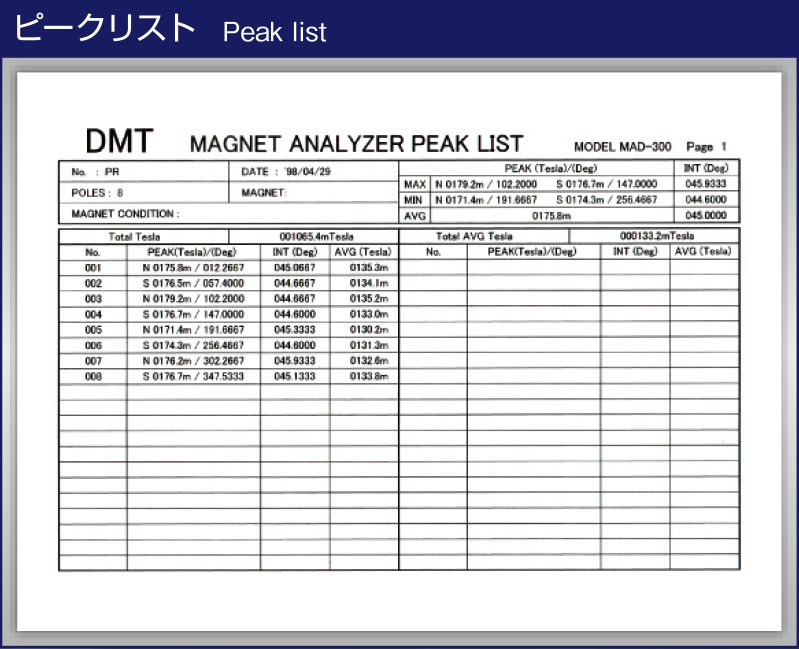 Features
Easy positioning of slider by jog dial
0.01mm/0.05mm/0.1mm step
Memory function and program measurement of X, Y, Z coordinates are possible.
Point auto function:
Frequency analysis function

(patented)

Skew angle measurement is possible

(patented)

.
Rotational angle measurement. max.43,200p/rev
Up to 200 mm for automatic movement and up to 0.01 mm for resolution are possible.
2D editing function (2D)
Data transfer to spreadsheet software:
ASCII output calculation
Vector measurement/analysis (optional)
The ultrafine probe FC-075 (width 0.6 mm × thickness 0.28 mm) can be used.
Option
Various vector map display:
Synthesis waveform display in two axis directions (three axis directions) is possible.

The industry's first


angle display function of synthesis waveform and frequency analysis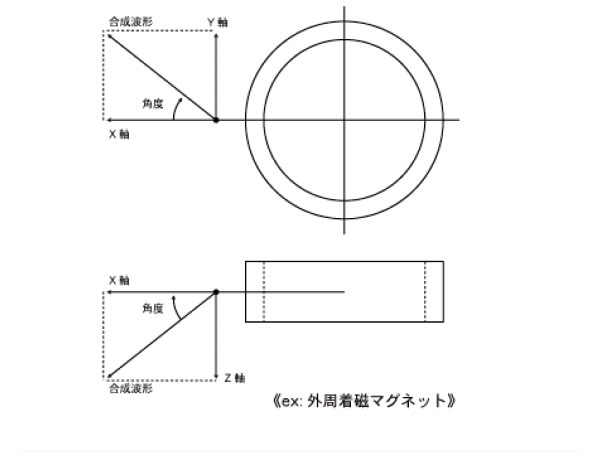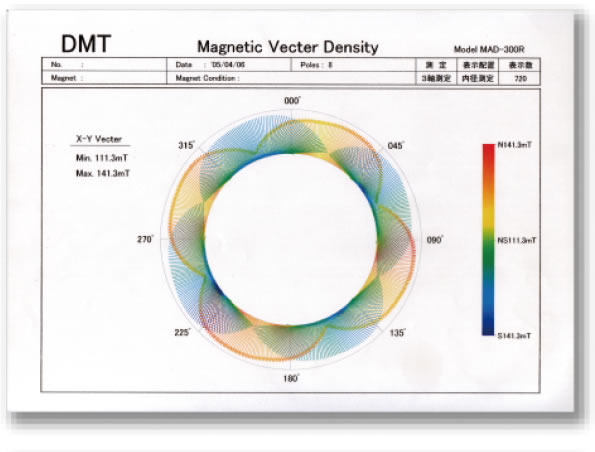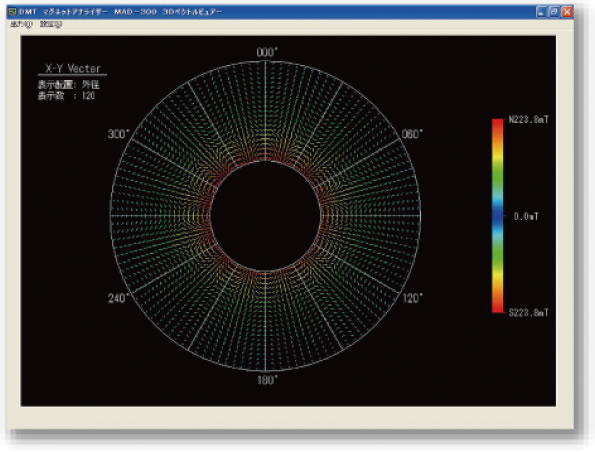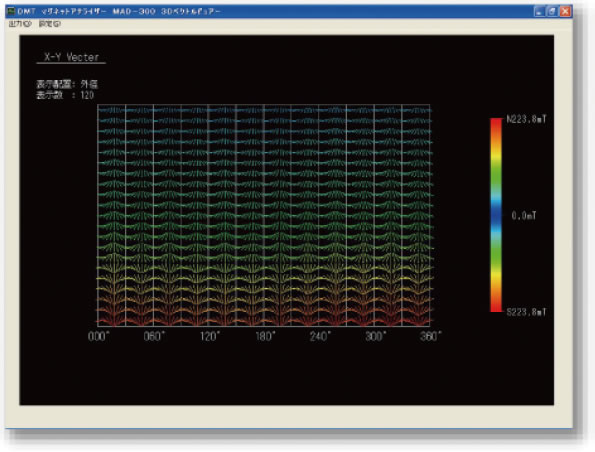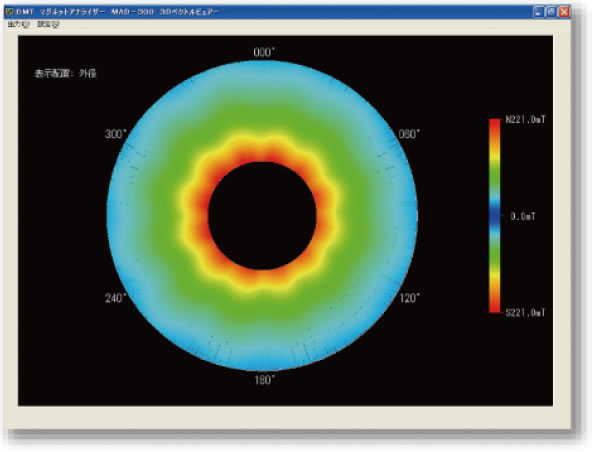 Magnet Analyzer MAD-310R/310RA
The best-seller analyzers with lots of advocates. (3D display model)
MAD 310R/310RA are magnet analyzers which automatically measure the magnetic-flux distribution of the magnetized cylindrical magnets, and analyze the magnetizing ripple, amount of magnetic-flux on each pole, magnetizing angles, and size of the area.
This has a 3-D display; X=rotation angle (Deg), Y=Surface magnetic-flux density (Tesla), Z=height (mm)
This also has the frequency 3D display; X=Frequency (Hz), Y=magnetic-flux (dB), Z=direction of height (mm)
This can be used as a 2D display device. It is also possible to pick-up data from a 3D ripple to a 2D ripple.
Automatic pointing function is optional.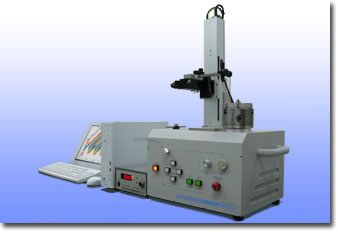 Features
Frequency analysis function

(patented)

This can measure skew angle

patented

Rotation angle resolution: max. 43,200p/rev
Automatic transfer: max. 200mm, Resolution: max. 0.01mm
2D editing function (2 dimensional)
This can forward the data to a spreadsheet software.
ASCII output function
Measurement and analysis of vectors (optional)
Automatic pointing function (optional)
The ultra superfine probe FC-075 (width 0.6mm × thick 0.28mm) can be used.
Magnet analyzer for planar magnetic field
Ideal for magnetic vector analysis of sensor magnet
In FSMA-1500, it is necessary to measure magnetic flux density in X, Y, Z three axis directions in magnetic measurement of a single magnet not a closed magnetic path such as a sensor magnet. We developed a planar type 3-axis magnet analyzer pursuing accuracy, operability, and analyticity. It is ideal for magnetic vector analysis of sensor magnet.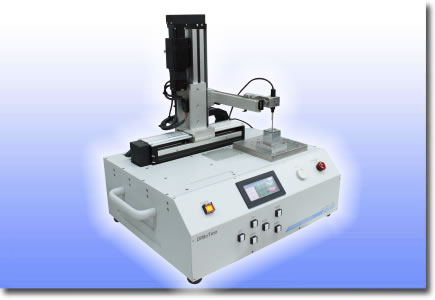 <Plane vector measurement waveform image (3D)>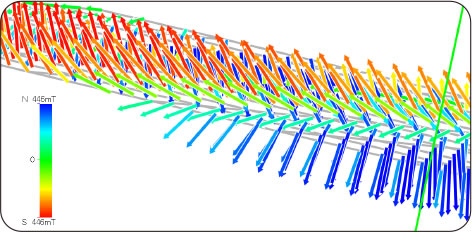 Features
Measurement moving range X: 150mm Y: 150mm Z:150 mm
Moving minimum resolution X:0.01mm Y:0.01mm Z:0.01mm
Measurement magnetic flux range 0.01mT (millitesla) to 4T (tesla)
Measurement position of true value by encoder
High-speed sampling (about 8 times faster than that of normal type)
Original function
The industry's first function 1


The measured vector data waveform can be displayed while rotating 360° using the mouse.

The industry's first function 2


Detailed data of an arbitrary point can be displayed by clicking the vector waveform shape.
The world's smallest size
Ultrafine probe FC-075 can be used (width 0.6mm × thickness 0.28mm)

Simple operation


Fine adjustment of slider position by JOG dial is possible (moving minimum resolution 0.01 mm).
*The specification and the exterior might be changed without notice.